Media
Building for the view - Scyon Walls & Floors - 2 June 2016
Elegance and modernity are effortlessly combined in the Cape with a View project by Neil Salvia Building Designs. Finalist in the BDAWA James Hardie Award 2016, this new build captures the stunning views of Perth's city skyline.
Dulux Namadji on Scyon Axon 133mm Woodgrain is combined with clean lines and smooth finishes to the façade, creating a contemporary, minimalist aesthetic. This style continues through to the interior with a streamlined open plan living area and Aneeta double hung windows, which add to the sharp lines that define this home.
Location: Yokine, WA
Style: Modern
View the original article here.
Alluring mix of traditional and modern - The Weekend West - April 28 2012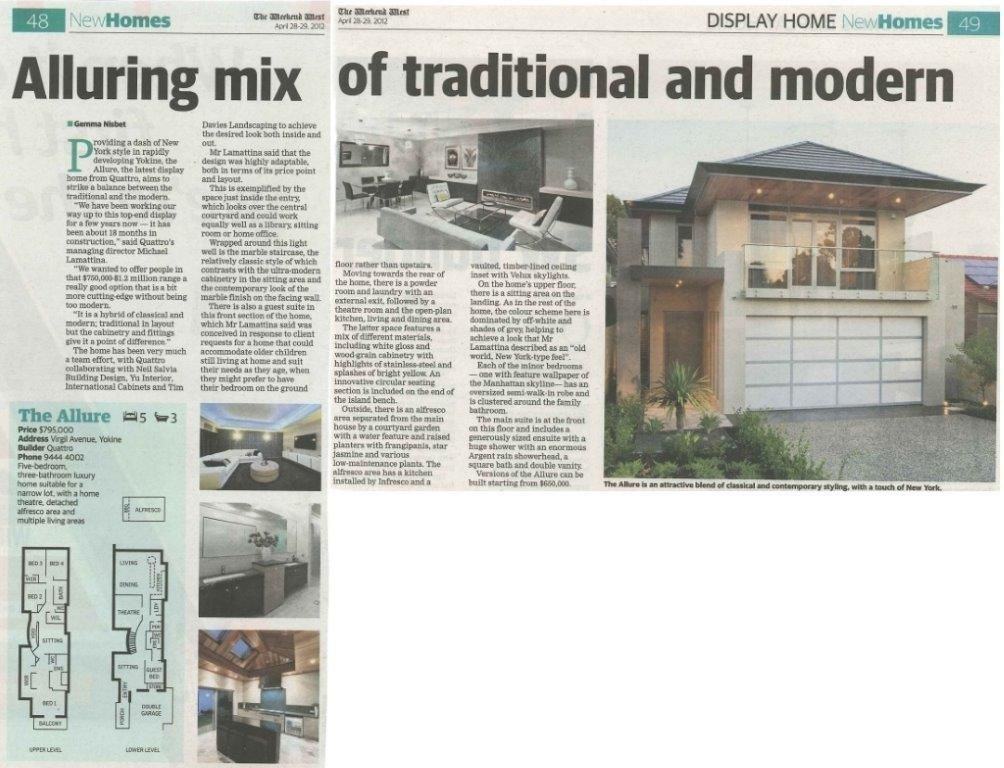 Awards
2016 BDAWA Winner Residential Grouped Dwelling – Emberson Project
2016 BDAWA Finalist Residential Building 351m² to 450m² – Cape Street Project
2016 BDAWA Finalist James Hardies Award – Cape Street Project
2015 BDAWA Winner Residential Building 151m² to 250m² – Timberline Project
2015 BDAWA Finalist Residential Building 251m² to 350m² – Waugh Project
2015 BDAWA Finalist Residential Grouped Dwelling – Tana Project 
2015 BDAWA Finalist James Hardies Award – Timberline Project
2015 NABD Finalist Best Residential Home – $500K to $1M Construction Cost – Timberline Project
2014 HIA Pilbara Spec Home of the Year
2014 HIA Pilbara Spec Home $600,000 over
2013 BDAWA Finalist Multi-residential up to Six Dwelling (up to 2 Storeys) – Banksia Project
2012 MBA Finalist Contract Home $230,000 – $280,000 – Toorak Project
2012 MBA Winner Best Display Home Pilbara
2012 HIA Winner Best Display Home Pilbara $700,000+
2012 HIA Finalist Spec Home $400,001 and over
2012 BDAWa Finalist New Residential Buildings upto 250m²